Feed the Future Innovation Lab for the Reduction of Post-Harvest Loss
The ADM Institute for the Prevention of Postharvest Loss is a proud partner with Kansas State University on the U.S government's Feed the Future Innovation Lab for the Reduction of Post-Harvest Loss (PHLIL).
PHLIL works to reduce postharvest loss of seed and durable staple crops, such as grains, oilseeds, and legumes. With Kansas State and other global and domestic partner agencies, universities and non-profits, we work to enable smallholder farmers, cooperatives, NGOs and more to decrease what is lost after harvest and, in turn, increase their overall quality of life.
Focus countries are Bangladesh, Ethiopia, Ghana, and Guatemala. ADMI's work on this project is primarily focused on the work in Bangladesh. Visit the PHLIL website to learn more about the program and the projects in Ethiopia, Ghana, and Guatemala.
PHL in Bangladesh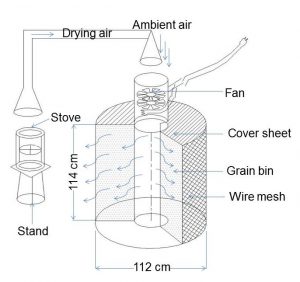 The PHLIL project in Bangladesh encompasses three main components: i) mycotoxin detection, ii) appropriate drying and storage technologies, and iii) gender issues in postharvest loss prevention. The loss of rice grain or seed due to mycotoxins development is a major concern in Bangladesh, and there is a demand for establishing a national database on mycotoxin growth in rice grains. Our work in Bangladesh will help in forming the database through conducting a baseline survey on mycotoxins development in Boro paddy. We have already established laboratory facilities to conduct research on detection and remediation of mycotoxins at Bangladesh Agricultural University.
Recent Highlights from Bangladesh
Partners at Bangladesh Agricultural University (BAU) continue to improve their BAU STR dryer, recently changing out the cage from bamboo mat to wire mesh.
BAU is partnering with private manufacturers for affordable commercial resale of the dryers, which are seeing high demand amongst traders, rice mill owners, and farmers.
Each dryer has a drying capacity of one-half ton of grain and decreases moisture levels from 20% to 12% in four hours.
Seed germination, with proper drying and storage, is more than 90% with the quality of rice rated as very good, compared to 35% with traditional drying and jute bags.
This excerpt from our 2016 Annual Report provides more details regarding the project in Bangladesh.
Partners
One-third of the world's available food is lost post-harvest, and we and our partners will continue our collaborative work in reducing what is lost post-harvest.